Oppo today officially announced the all-new ColorOS 12 operating system for its global users, continuing along it's journey to give customers a seamless experience that's close to stock Android 12. ColorOS 12 introduces an all-new inclusive UI, smoother performance, and aims to boost everyday productivity.
This short video gives you the vibe of what stock Android looks like before OPPO makes their own subtle changes. To me the pastel shades and rounded interface remind me of 1950's TV shows.
Also read: Redmi Note 10 Lite With 6.67-Inch FHD+ Dot Display Launched In India Starting At Rs. 13999
Features includes in ColorOS 12
Inclusivity Now a Central Theme
With 440 million users around the world, across 68 countries, "inclusivity" has been a central theme in the creation of ColorOS 12. Building on top of OPPO's Infinite Design concept, which is lightweight, clean and richly and very customisable, the new OS provides a more inclusive experience and comes packed with softer icons, animations and information framework that is friendly to different languages and cultures.
Also read: Motorola Edge 20 Pro With Octa Core Snapdragon 870 7nm Processer Launched
Smoother, Seamless Experience Powering Greater Productivity
Thanks to the long-term code decoupling efforts, OPPO says ColorOS 12 has made some achievements in addressing lags and stutters after prolonged usage, especially in anti-fragmentation and intelligent resource allocation, leading to a low 2.75% system aging rate in 3 years, an average of 30% lower memory occupation and 20% lower battery consumption.
Prioritised Privacy
OPPO says they have been listening to user feedback and have prioritising privacy on ColorOS. ColorOS 12 not only comes packed with all the improved security and privacy features from Android 12, including Privacy Dashboards, Approximate Location Sharing and Microphone and Camera Indicators, which empower users to be the masters of their own privacy with clear, visualised menus and buttons; but also keeping the well-received features developed by the OPPO team, such as Private System, Private Safe, App Lock and others.
Being aware that privacy to users is all about being transparent. OPPO say they have been improving data compliance storage and processes. With servers deployed in multiple locations across the world, OPPO say they guarantee that user data stays in nearby servers, saved in a non-plain text format and transmitted using a proprietary protocol.
Also read: Vivo X70 Pro+ With 4500mAh Battery With 55W Fast Charging Support Launched In India.
More open to Android developers
While ColorOS has incorporated many stock Android features, ColorOS has been one of the sources of inspiration for the customisation trend in Android 12, like the Wallpaper-based Theming system in Material You, which you can find as a similar self-developed feature in previous ColorOS editions. Another example of this is the App Cloner from ColorOS that now features in Android 12.
OPPO's ColorOS aims to become a more Android developer friendly OS. In addition to the free camera SDKs covering OPPO's camera capabilities. Which is including Ultra Steady Video Shooting, HDR, Super Wide-Angle, and more.. OPPO has further opened its HyperBoost, Color Vision Enhancement to benefit Android app developers and enhance the Android ecosystem. 
ColorOS 12 beta global roll out details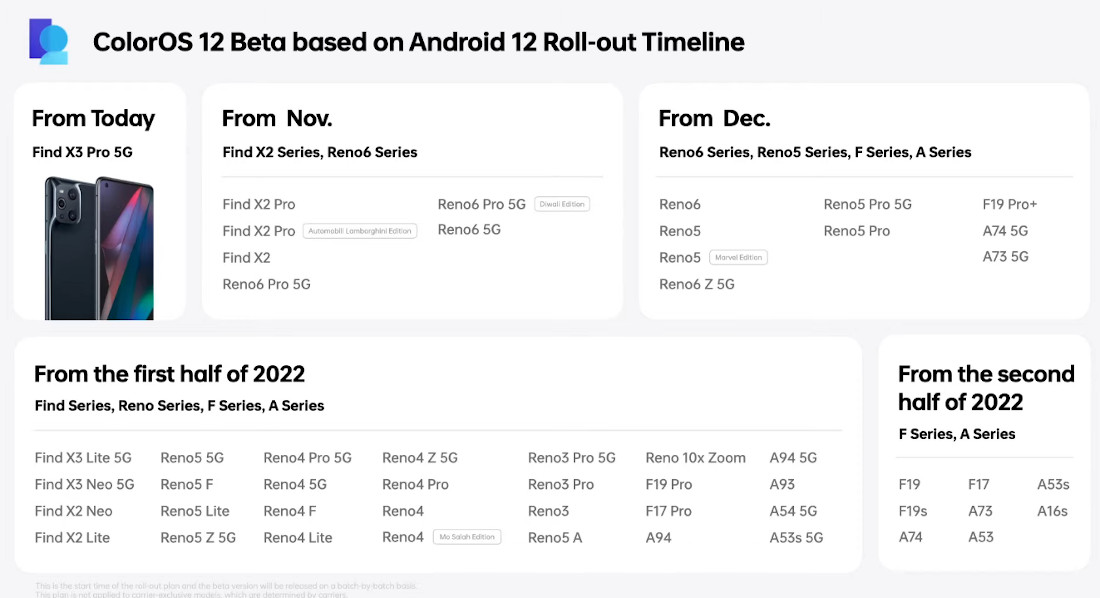 ColorOS 12 will be released in batches, starting with the Find Series and Reno series. Moreover, the complete rollout will cover over 50 phones, including the Find, Reno, K, and A series.
Devices that will get ColorOS 12 (beta) update starting today, October 11
Devices that will get ColorOS 12 (beta) update starting November
Find X2 Pro, Find X2 Pro Automobili Lamborghini Edition, Find X2
Reno6 Pro 5G, Reno6 Pro 5G Diwali Edition, Reno6 5G
Devices that will get ColorOS 12 (beta) update starting December
Reno6 Z 5G, Reno6, Reno5 Pro 5G, Reno5 Pro, Reno5, Reno5 Marvel Edition
F19 Pro+
A74 5G
A73 5G
Devices that will get ColorOS 12 (beta) update starting from the First half of 2022
Find X3 Neo 5G, Find X3 Lite 5G, Find X2 Neo, Find X2 Lite
Reno 10x Zoom
Reno5 5G, Reno5 Z 5G, Reno5 A, Reno5 F, Reno5 Lite, Reno4 Pro 5G, Reno4 5G, Reno4 Z 5G, Reno4 Pro, Reno4, Reno4 Mo Salah Edition, Reno4 F, Reno4 Lite, Reno3 Pro 5G, Reno3 Pro, Reno3
F19 Pro
F17 Pro
A94 5G
A94
A93
A54 5G
A53s 5G
Devices that will get ColorOS 12 (beta) update starting from the Second half of 2022
F19
F19s
F17
A74
A73
A53
A53s
A16s
How to get ColorOS 12?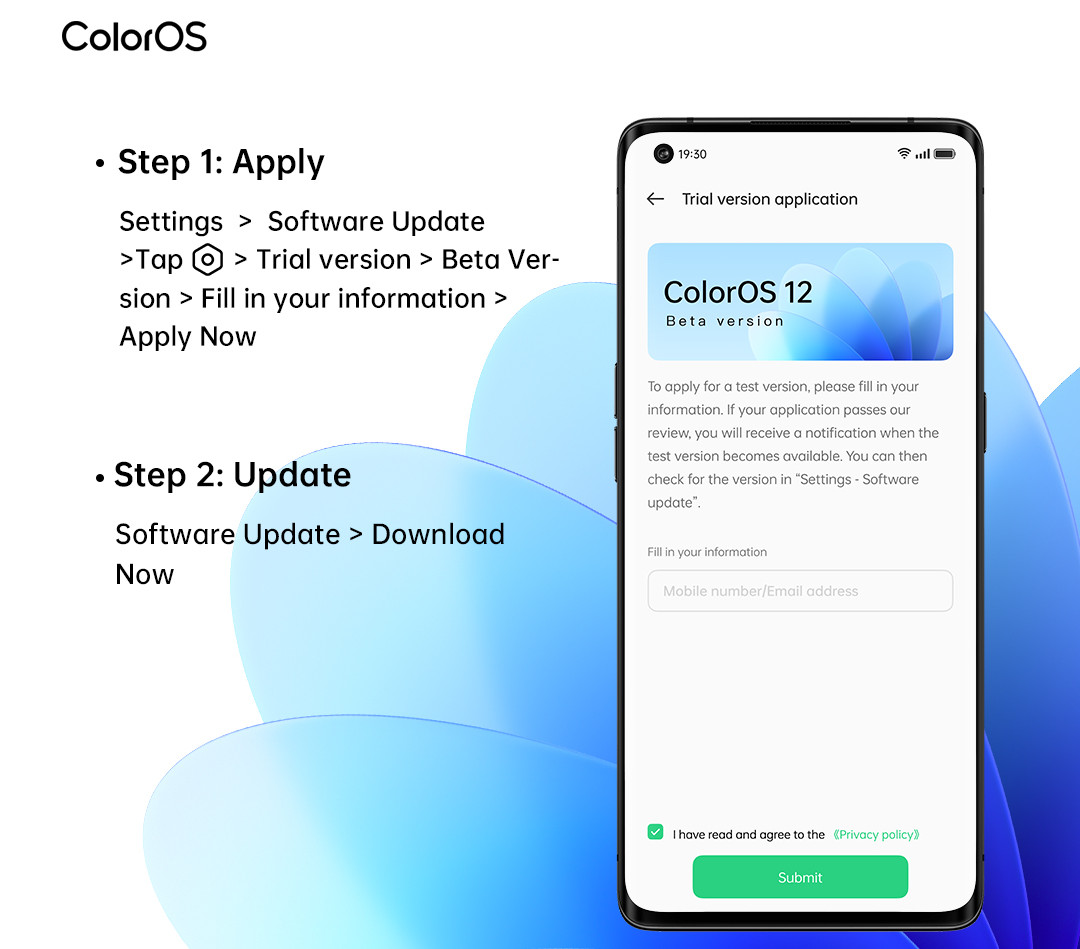 Also, if you have one of the eligible devices, you can go to
Settings > Software Update > Top right corner icon > Trial version > Beta Version > Fill in your information > Apply now
Software update > Download Now
Also read: PORTRONICS Auto 17 Smart Audio Connector With Google /Siri Voice Assistant Introduced In India