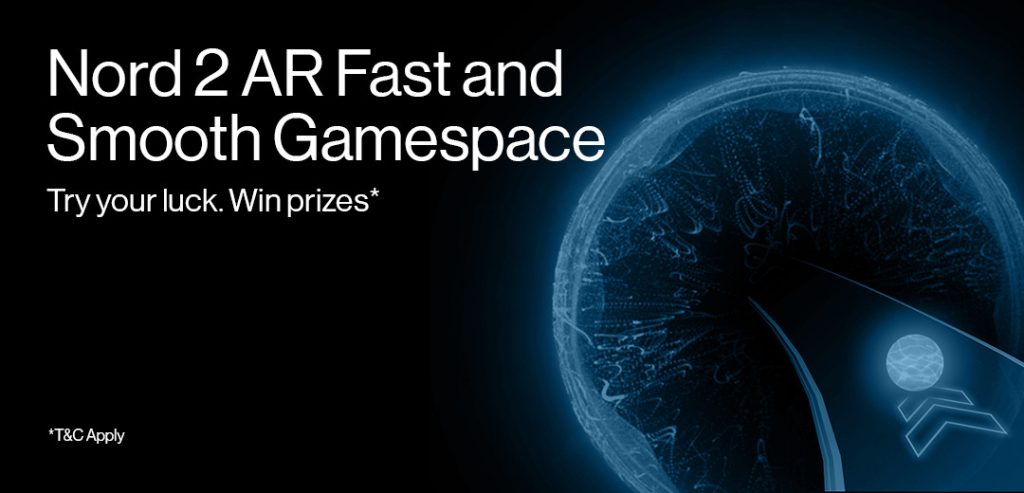 A year ago, OnePlus join force with Blippar, a London-based technology company specialising in augmented reality, for the OnePlus Nord launch. It's worth mentioning, OnePlus was the first smart-phone company to do so.
However, OnePlus's AR connection didn't end there! Last month, OnePlus came up with a unique way for people to check out the physical features of the latest Nord CE 5G from the relief of their homes. To be specific, the company launched an impressive AR experience that allows users to see the device up close through their smart-phones.
Also read : Vivo Y72 5G With 6.58-Inch FHD+ 90Hz Display Launched In India For Rs. 20990
Fast and Smooth Challenge
OnePlus has built an interactive games leveraging AR technology: the Fast and Smooth Challenge.
The 90Hz Pinball Challenge / Fast and Smooth Challenge is now available to the public and community members. The contest duration is from 12th – 30th July.
How to take part in this challenge?
To take part in this challenge, following steps are you need to taken:
Click here to enter (Works only on phones and tablets) the challenge.
Accept permissions (access to device's camera, motion, and orientation sensors) and join the challenge.
The first challenge is already unlocked. Participants can navigate through the Fast and Smooth Lane at the designated time to reach a 90Hz score.
The second challenge will get unlock at 8.30 pm IST on July 22 till July 30. Try to charge at most 30 phones in the designated time to complete the challenge.
Every user can play these games an unlimited number of times per day until July 30
Try to make it far enough and, you'll be select to take part in our giveaway — and have a real shot at winning a brand-new Nord 2, says the company.
However, to participate in this giveaway, you should be legal resident of the United Kingdom, European Union, or India and above 18 years.
If you complete the game successfully, you'll be ask to share your contact details. If you win the phone or any other rewards, you'll be sent an e-mail. As per the company, 10 lucky winners will win a Nord 2, and 2,000 winners will win reward vouchers/coupons. The selection of the winners will be conduct via a randomise lucky draw mechanism.
OnePlus Nord 2: What to expect
OnePlus is all set to launch the successor of Nord on July 22nd at a global virtual event. Dubbed as Nord 2, this 5G device is expected to come with a slew of upgrades from the camera to performance to charging.
Recently, Pete Lau said the company has continued reviewing users' feedback and working on ways to improve the user experience for the next OnePlus Nord device.
OnePlus Nord 2: Availability
You will buy OnePlus Nord 2 5G on Amazon.in. On the OnePlus India website, the company has opened a lucky draw that lets users stand a chance to win the Nord 2, and everyone will get a Rs. 500 discount voucher that will be applicable on OnePlus.in when purchasing a OnePlus Band or a OnePlus Power Bank from July 26th to July 28th.
The launch event is on July 22nd, 4 PM CEST / 7:30 PM IST.