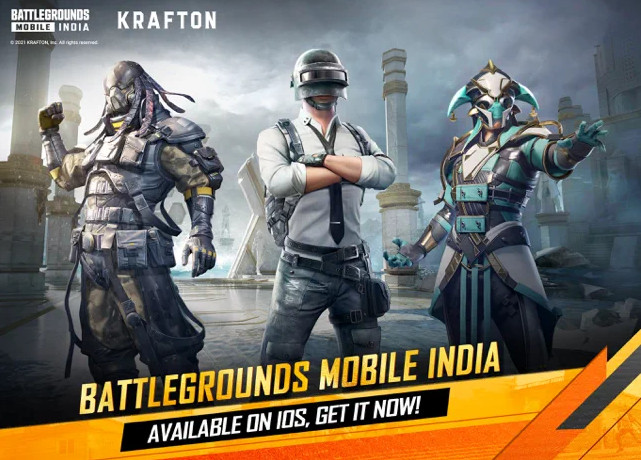 Krafton, South Korean video game developer, has launched the BATTLEGROUNDS MOBILE INDIA game for iPhone and iPad. This comes after the official launch of the game on Android in early July and the beta release in June. The game recently cross 50 million downloads in a few weeks of the launch on Android.
Moreover, BATTLEGROUNDS MOBILE INDIA is 1.9GB in size and requires iOS 11.0 or iPadOS 11.0 or later. You can download the India exclusive game from the Apple Store here.
Also read : Best TWS Earphones TO Buy Under Rs.2500 In August,2021
[ INDIA EVENTS ]
Download now to get amazing outfits and coupons, such as crate coupons and even two permanent skins as welcome rewards for you. Not to forget, thanks to the tremendous support from our fans, we have hit 50M downloads and to celebrate that, there's an additional permanent outfit waiting for you redeem as soon as you log in! Don't forget to complete various missions to claim many more exclusive rewards!
Set in a virtual world, BATTLEGROUNDS MOBILE INDIA is a new battle royale game where multiple players employ strategies to fight and be the last man standing on the battlegrounds. A free to play, multiplayer experience, in BATTLEGROUNDS MOBILE INDIA. Players can battle it out in diverse game modes which can be squad based or solo.
[ INDIA'S FAVOURITE GAME ]
Featuring diverse maps with different terrains on a virtual setting. BATTLEGROUNDS MOBILE INDIA, utilizes the full capabilities of Unreal Engine 4 to bring alive fantastic worlds augmented by 3D sound, to build a truly immersive experience on a mobile phone. Pick your map and mode that suits you and get set for a thrilling ride.
Also read: How Does The Wireless Technology Works? Advantage And Disadvantage.
More than pure combat, BATTLEGROUNDS MOBILE INDIA the free to play new game, is also a battle of wits. As you develop strategies to take on your enemies in a battle royale mode or a free fire fight or even a one-one TDM. Are you up for the challenge?
Last but not least, with detailed monthly new content updates, and world-class collaborations. However, there is always something to look forward to in this battle royale game. As we progress down the calendar, we will hear more and more feedback from you on India's favourite  game. We will work with partners and bring exciting new collaborations your way.
Aslo read : Instagram Will Allow People To Limit Comments And DM Requests With Limits Feature.